Explore the city of Asakusa with Shobuya Rickshaw
Elegant and memorable time for you!
Please enjoy traveling around Asakusa by Shobuya Rickshaw, and talking with our friendly rickshaw driver.
Please make reservation 3 days in advance by using Reservation Form (cannnot be accepted by telephone).
(Example:  Please send the reservation form by March 21, to make reservation on March 24)
| | | |
| --- | --- | --- |
|  Course |  1 person | 2 persons |
| 15min. Course | 3,000JPY | 4,000JPY |
| 30min. Course | 6,000JPY | 8,000JPY |
| 45min. Course | 9,000JPY | 12,000JPY |
| 60min. Course | 12,000JPY | 16,000JPY |
| 90min. Course | 18,000JPY | 24,000JPY |
| 120min. Course | 24,000JPY | 30,000JPY |
The course can be customized according to your request   In some cases it is not possible to respond due to traffic conditions.
Example of "30min. course"
Example of "60min. Course"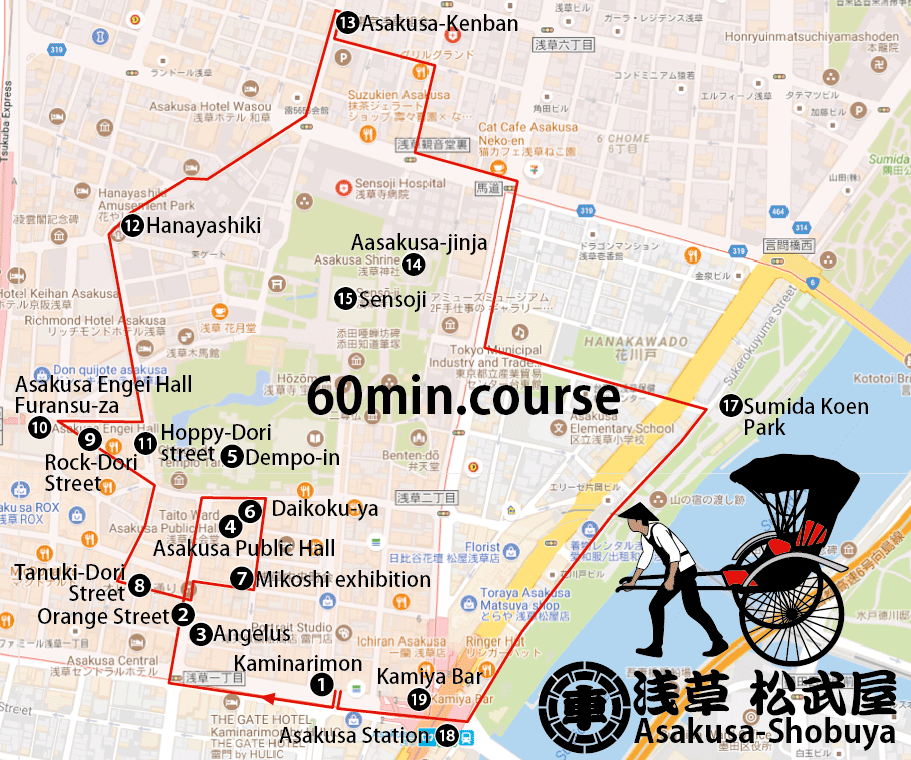 Example of "90min. Course"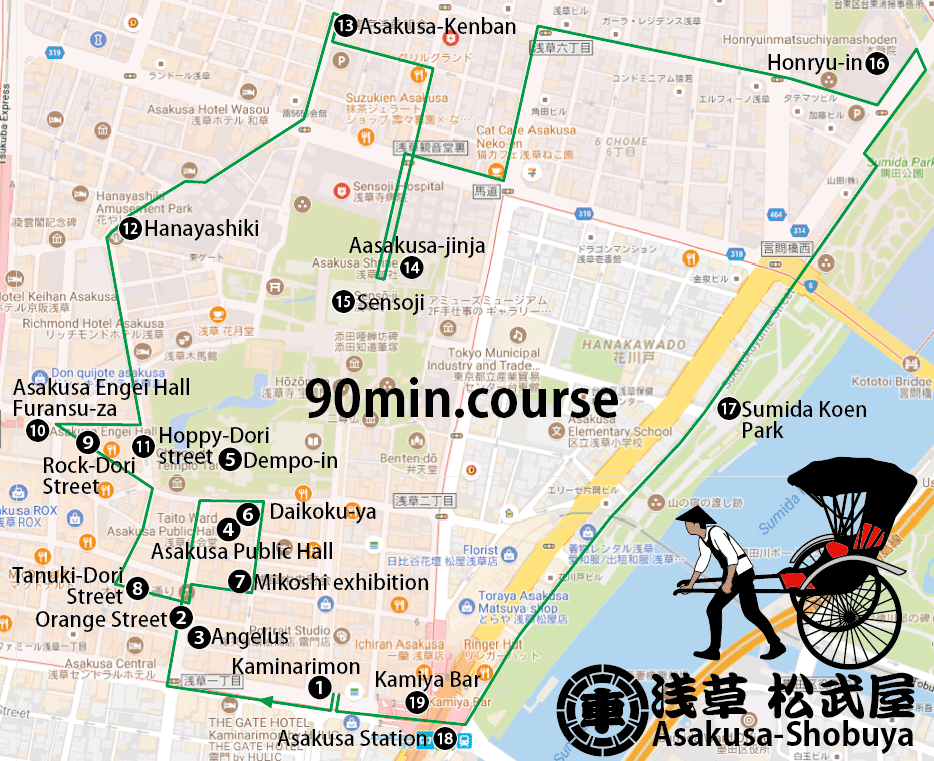 ❶Kaminarimon-gate of Sensoji-Temple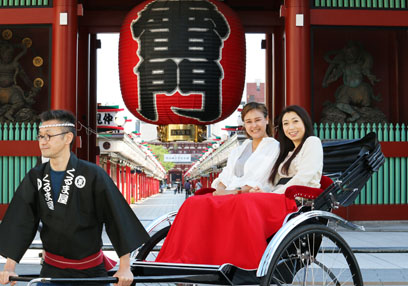 Asakusa specialty Kaminarimon-gate where a large red lantern is hung. It is the entrance of Sensoji-Temple which is famous as the oldest temple in Tokyo. Both sides of the gate are decorated with statues of the god of wind and thunder, which welcome tourists. Many people visit this spot as a photography point. Before Sensoji-Temple, souvenir shops unique to Japan are densely lined, and they are very popular for tourists from overseas.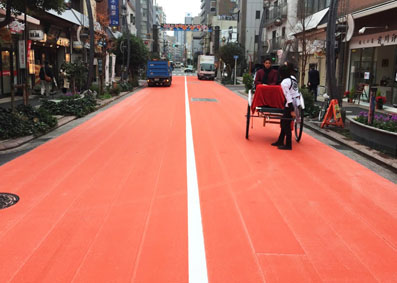 At first, it was named "Ward Office Street", but when the Ward office was demolished and Asakusa Public Hall has been built afterwards, the street name has been changed to "Asakusa Public Hall Orange Street", and the road was painted with orange color to give a fresh impression.
After that, although the "Orange Street" was constructed into a cobblestone pavement once, but in 2015 the orange colored pavement has revived again.
A cafe founded in 1946. The interior is a classy, warm and relaxing, and reminiscent of the church. The appearance is a mountain hut in European-style which was quite rare at that time. "Angelus" that continues to run for over 70 years has many fans because it has the atmosphere of Showa era. And there are also many prominent writers such as Shotaro Ikegami, Osamu Tezuka of a cartoonist, and regular customers for three generations.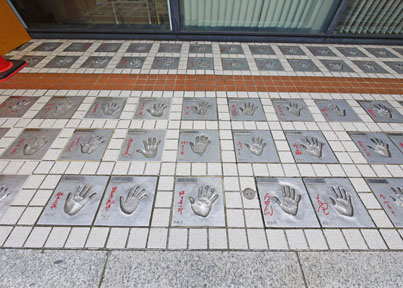 It is a multipurpose general hall built in the site of the Asakusa Ward Office. It is also used as a conference room and an exhibition hall, and it is worthy of special mention that a runway can be set up so events such as Kabuki performance can be held.
Star Plaza:  Located in front of the entrance of Asakusa Public Hall. In order to honor the accomplishments of actors, comic storytellers, singers and celebrities who contributed to the promotion of public entertainment, and also to convey the achievement to future generations, their hand molds and autographs have been displayed there since 1979. The space in front of the Hall is now full with them, and they have started to be added at the sidewalk of the Orange Street every year.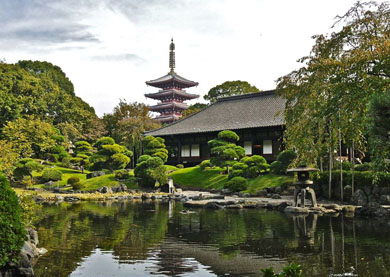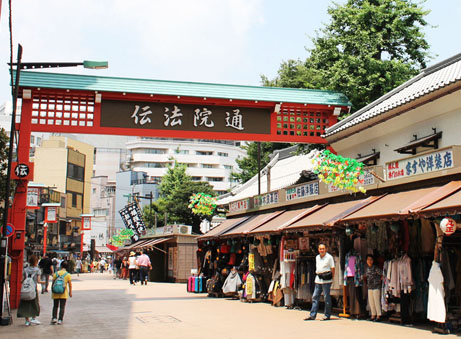 In Dempo-in which is the quarters of Sensoji-Temple, there is a "Kaiyu shiki Teien" (circuit-style garden) that Enshu Kobori has created. He was not only a landscape architect but also a feudal lord of Oumi province ("Shiga Prefecture" at present) between 1624 and 1644, and furthermore a master of tea ceremony. In the garden, there is a tea room called "Tenyu-an", and a sarcophagus (Length 2.5m) of the Tumurus period excavated from the grave mound in Meiji era.
❻Tempura restaurant Daikoku-ya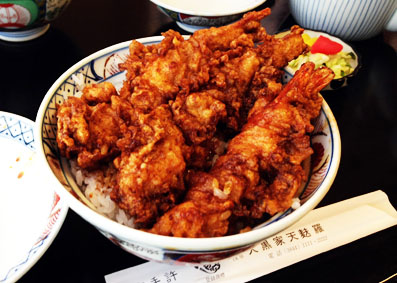 Daikoku-ya started as a soba restaurant at Dempo-in Dori Street in 1887. And it has been converted a soba restaurant into tempura restaurant in the end of Meiji era. The specialty is "Tendon" which is served with a variety of Tempuras on a bowl of rice. Especially "Ebi (Prawn) Tendon" is one of the most popular menu as the prawns are larger than the bowl.
❼The history of Sanja-Matsuri Festival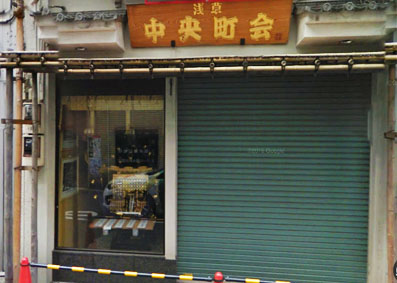 Sanja-Matsuri is a festival of Asakusa Shrine lasting for over 700 years and one of the most famous festivals in Tokyo. It is said that the origin was the "Funatogyo (boat festival)" held in 1312. Reportedly, in Edo era, 3 portable shrines were carried to the boat boarding point of Asakusa-bashi bridge, then put on boats by fishermen, rowed up along Sumida-gawa River, landed at Komagata-Kishi or Hanakawado-Kishi shore and returned to the Asakusa-Jinja Shrine. The original event was abolished in the late Edo period and it was revived once in Showa era, but then the festival has been simplified and portable shrines have been paraded (for praying for happiness of people lining the path of the parade) in the town since Meiji era. As the 700th anniversary, "Funatogyo" was reproduced in 2012.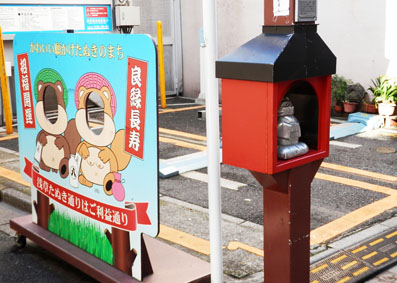 A shopping street with 26 shops and restaurants. There are 11 different types of statues of raccoon dog shining in silver in small shrines on both sides of this street. It has been modeled on "Raccoon dog" which used to inhabit in Asakusa a long time ago. It is said that each raccoon has a different benefit individually, such as business prosperity, couple satisfaction, family safety, marriage, childbirth, improvement in academic achievement, etc, and you might have one when stroking raccoon dog.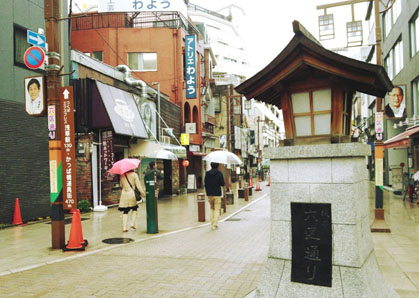 It used to be called Rock Flower Road but has been changed on March 31, 2004. As the street is connected to Dempoin-Dori Street which is imitated the streetscape of Edo era, so it has also been arranged in order to give the same kind of atmosphere. The portraits and the commentaries of professional entertainers representing Asakusa have been hung at the street lights on both sides of the street.
❿Asakusa Engei Hall / Furansu-za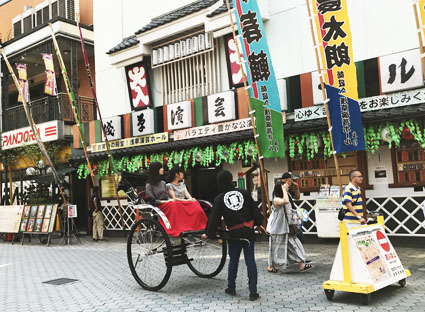 "Asakusa Engei (Entertainment) Hall" is the laughter hall of fame and a regular hall for enjoying "Rakugo (Japanese traditional comic storytelling )", where is opened throughout the year.
The official name of "Furansu-za (French Theater)" is "Asakusa Furansu-za Engei-jo Toyo-kan (Asakusa French Theater Entertainment Hall Toyo-kan". Currently you can also enjoy Manzai (Japanese stand-up comedy).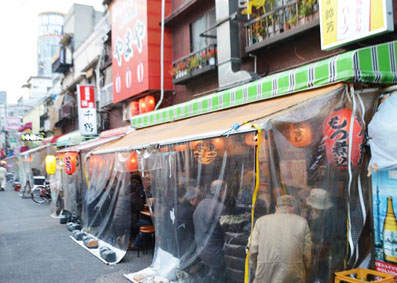 Asakusa "Hoppy-Dori street" is a Mecca of "Hiru-nomi (drinking alcohol in the daytime)", also known as "Nikomi (Stew)-Dori street". Japanese-style restaurants hanging with red lanterns are lined up along the street and the area gives a nostalgic atmosphere of Showa era. It is crowded with people every night despite weekdays.
⓬Hanayashiki Yuenchi Amusement Park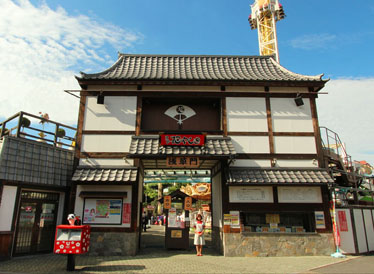 Opened in 1853 which is Edo era and it is the oldest amusement park in Japan. It also created a great sensation with being able to see rare birds and breeding of ferocious beasts in Meiji era. After that, although it was suspended temporarily due to earthquake disaster and war damage but has been rebuilt it. And there is Japan's first and the oldest roller coaster in existance in Japan.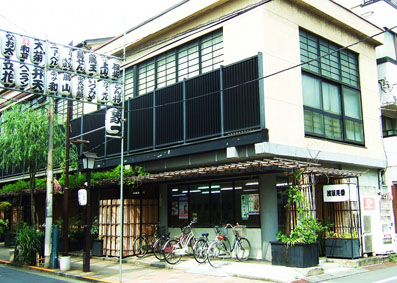 "Kenban" is busy and very important place comprehensively operated by the union dues from Japanese-style restaurants, Geishas and "Okiyas" where is the agency and also gives educations to Geishas.  The job is to receive reservations from the restaurants, manage the schedules of the geishas, charge fees to the restaurants and pay for the geishas, it is like an entertainment office.
The history of "Asakusa Hanamachi"   In 1872, the newly inaugurated Meiji government promulgated the Emancipation Decree for Female Performers and Prostitutes and human trafficking was prohibited, and the geishas were set free. A new law was enacted, anyone could become a Geisha once the one notified and received the operating permission. Taking this opportunity, new red-light districts have appeared nationwide.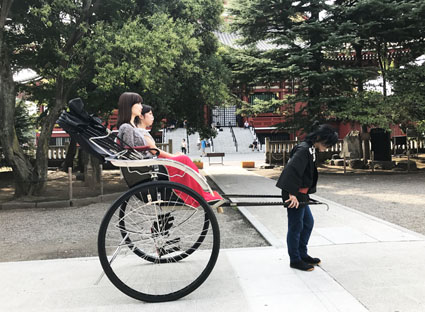 Also known as "Sanja-Gongen (three deified guardians)". "Sanja-Matsuri Festival" held at Asakusa-Jinja Shrine is one of the Edo (at present : Tokyo) three biggest Festivals. In the Edo era, Iemitsu Tokugawa who was the Third Shogun gave a order to construct a new "Mikoshi (a portable shrine)" and a "Shaden (the main building of the shrine)". Because of it, the festival has become a big event in Edo city.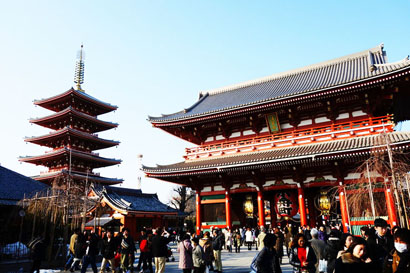 Sensoji Temple is the Grand Head Temple of a faction "Seikannon-shu" which is one of the independent sects from Tendai-shu. It is the oldest temple in Tokyo, boasting a history of 1400 years. Highlights of it are "five-storied pagoda" certified as a national treasure in Edo era, and "Great Waraji (huge straw sandal)" decorated at Hozomon gate, etc.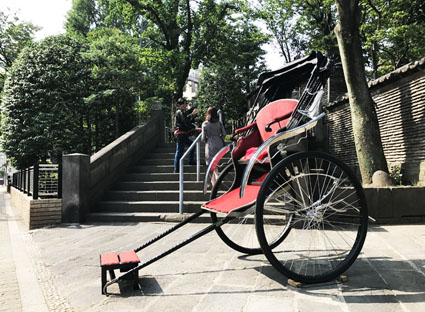 It is also called "Matsuchiyama-shoden". This temple is dedicated to The "Daisho Kangi Ten" (The guardian deity of Buddhism). In the emblem of the temple, drawstring bag and bifurcated radish are drawn, the drawstring bag representing sack of placer gold means a thriving business, the bifurcated radish means a sound health, a conjugal harmony and a prosperity of descendants, and both of them show happiness and wealth of "Daisho Kangi Ten". This place is popular as a power spot, too.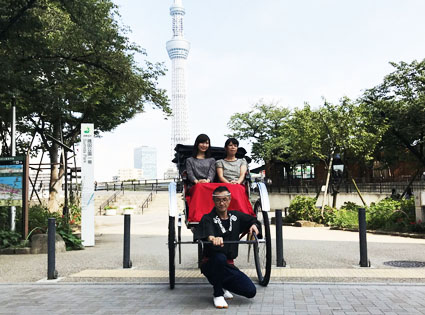 It is one of the most noted place for cherry blossoms in Spring and the Sumidagawa fireworks festival is held in Summer. The garden in the park is made using the relics, such as a pond in the Mito Tokugawa residence. It is said that people of the Mito Tokugawa family had lived in the residence for generations until it was destroyed after the Great Kanto Earthquake, but then it has been taken into the area of Sumida Park and changed to a Japanese garden. It is also a popular shooting spot of Sky Tree and Asahi Breweries head office building.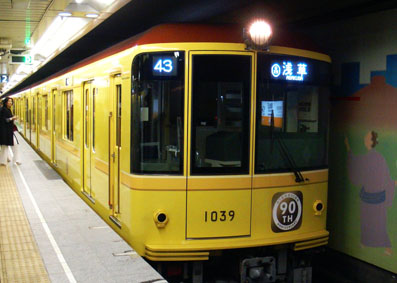 It is the first subway in not only Japan but Asia and Oceania region. The operation has been started in 1927 between Asakusa station and Ueno station. The vehicle itself is the smallest in the vehicle standard of Tokyo Metro in accordance with the narrowness of the tunnel, the length of one vehicle is 16m, and the total length of the whole 6-car train is 96m.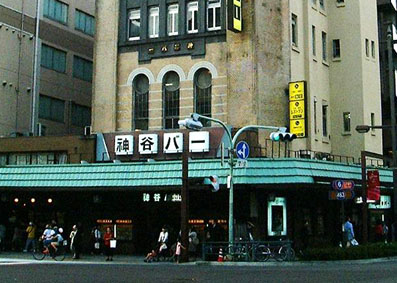 A famous bar known as the Japan's first bar. It has the old fashioned atmosphere and is a place for social interaction for common people over 130 years. The specialty of this bar is an original cocktail named "Denki Bran". The name "Denki Ban" comes from the combination of the words of "Denki" which means electricity and "Bran" from brandy. It is said like that because it gives a sense of electricity when it is poured in your mouth.